[taken during week running from 30/07 to 05/08]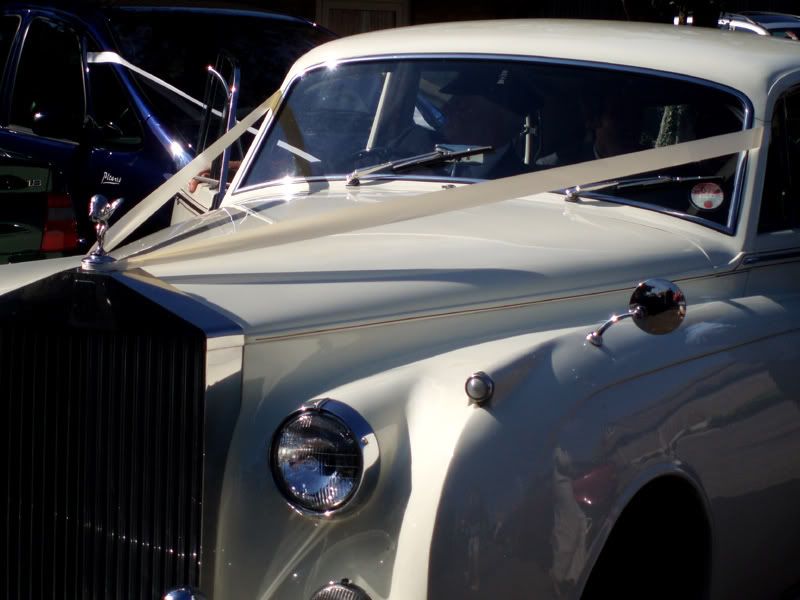 Just in case the ribbons weren't enough of a clue, this is a wedding car. Not mine, I hasten to add - I'm still a number of stages away from that (read: all the possible stages) - but it's still appropriate to put it up here, as it seems to be weddin' season.

I've been to 3 weddings this summer, and several other people that I know have got hitched too. Exactly why the summer is so popular for getting married isn't clear, as the great British weather doesn't really guarantee that you're going to have a nice day for it anyway. What's considerably weirder is that most of the people who've been tying the knot (wonder how many more synonyms for marriage I can get in?) are around my age. Statistically, this is unusual (in 2001 the mean male age at marriage was 30.6 years), but the stats have got nothing on just how bizarre it is to see these people, at least one of whom I played with when we were both under the age of 5, doing the most grown-up thing that can possibly be imagined. Seriously, getting jobs, getting elected to political office, getting arrested...none of these would faze me quite so much. Having people around me who are husband and wife...well, it seems like they're this close to living in a small cottage with roses over the door, a cat on the doorstep and an unhealthy distrust of foreigners.

Paranoid? Perhaps. But it's no less disturbing for that.