Microsoft has produced a website for their new product concept, called "Surface". Essentially, it's a touchscreen interface that lets you work with documents and media directly, with intuitive gestures to manipulate them on the screen, rather than having to use a mouse or keyboard to get in the way.

So why am I bothering to mention this? Because, despite Microsoft's extremely flashy site (which, incidentally, is running as slowly as a snail in a bowl of treacle on this connection, and includes interestingly frustrating little design flaws like the inability to close a video until it's fully running), this concept is not remotely new. Jeff Han demonstrated such a device last year (do follow that link - the video is immensely cool), and the technology for doing it is fairly well established. All that Microsoft are doing is trying to produce a consumer-level device building on this same technology.

To be honest, I think they'll have difficulty. The mouse-and-keyboard combination is so fully integrated into computing at the moment that change is going to be difficult, especially for those sectors of IT which need to be able to type fast (read: every sector except pure graphical design). For some purposes, I don't doubt that this technology will be useful, and I definitely want one.

Just not from Microsoft. Especially as the intro to their flashy website gives you this absolutely priceless screenshot, complete with dodgy colour gradients...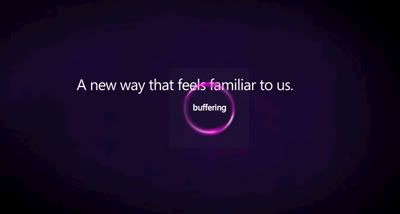 Yep, buffering definitely does feel familiar coming from these people.